During work today, I went out during my lunch to run some errands. While I was out, I made a stop at a car wash (One which I have never hit before) and found 4 pennies and a wooden letter B. I don't normally pick-up my non-change finds like Chris, but I wanted to get a picture of this so I could do a Sesame Street style opening of my post. So...today's post can be brought to you by
The Letter B.
I also made a stop at H.E.B. and found 1 penny in the aisle.
After dinner, I had to make a quick post office run. On the way, I stopped off at JR's Car Wash and found 2 dimes and 6 pennies. At my north Chick-Fil-A I found 3 quarters, 1 dime and an amazing 11 pennies! My final stop was at Starbucks where I found 1 quarter, 1 nickel and 2 pennies.
What is pretty amazing is that even thought I have my
Change Race Daily High
this month, until tonight, I have only found 8 quarters. So tonight's find of 4 quarters is appreciated. I was also only out looking for about 20 minutes, so it is amazing that I was able to find so much with such minimal effort, compared to nights were I scour the area and only find a few pennies.
Total for the Day - $1.59 -

Change Cycle

Total for the Race - $58.73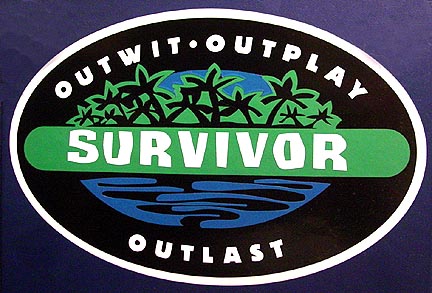 Survivor Update
Overall, just another one of those forgettable episodes where we are still learning people and don't really care to much about what happens. In the future when I am handed the keys to the Survivor Empire, I will combine the first 6-8 episodes into 2, right up to the merge.

I think that we are all ready for Football throwing challenge that Survivor is going to throw to Gary to "out" him. Only a matter of time.

There is fun TV, there is The Simpsons & The Family Guy, then there is the challenge were they blindfold all the Survivors and make them carry HUGE poles and things with serious weight.

With the way that Brianna totally dogged it during the Immunity Challenge, it looked like she was having a personal work-out for the LA Clippers. I guess we are left to ask if Elgin Baylor will blow a 1st or 2nd round pick on her.